The Liebherr LR 1600-2 crawler crane has outstanding load capacities, variable boom and derrick systems as well as enhanced component dimensions for low cost transport. With its bespoke boom system the LR 1600/2 is ideal for the erection of wind turbines.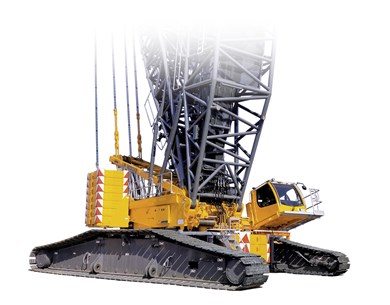 Click to go to Liebherr Mainstie
Siemens Finances Crawler Crane with Utah's Mountain Crane Service
Siemens Financial Services completes $4.35 million in financing to support acquisition of a Liebherr LR 1600-2 crawler crane by Mountain Crane Service.
The crane will support Mountain Crane Service's contracts with Siemens Energy to service and maintain wind turbines across the U.S.
MALVERN, Pa.–(BUSINESS WIRE)– The Commercial Finance Americas team of Siemens Financial Services, Inc. (SFS) has recently completed a $4.35 million financing package with Mountain Crane Service to support its acquisition of a Liebherr LR 1600-2 crawler crane. Family-owned Mountain Crane Service is Utah's largest crane company, with a fleet of over 75 pieces of equipment.
"SFS consistently acts as our go-to financing expert, providing guidance when we need to acquire new capital equipment," Paul Belcher, co-owner of Mountain Crane Service said. "Their support has been an invaluable resource for our team."
"This was a significant transaction for Siemens, establishing us as one of the primary vendors for the financing of Mountain Crane Service's equipment," said Gary Amos, Head of the Commercial Finance Americas team at SFS. "By demonstrating SFS' ability to successfully close the transaction, we have been able to further our relationship with both Mountain Crane Service and Liebherr."
Mountain Crane Service will use the crane in support of newly awarded contracts with Siemens Energy, Inc.'s wind power service business. Under the contracts, the company will provide service and maintenance support for Siemens wind turbines in several states that are either under warranty or long-term service programs with Siemens.
"This transaction represents a solid collaborative effort between Siemens Energy, SFS and Liebherr to benefit our customer," said Mr. Amos. "Our team worked directly with Siemens Energy to understand and evaluate the deal from a risk perspective. The result was a win-win for all parties involved."
READ THE FULL ARTICLE HERE
Technical data
| | |
| --- | --- |
| Max. load capacity | 600 t |
| at radius | 11 m |
| Main boom, lightweight/heavyweight from | 24 m |
| Main boom, lightweight/heavyweight up to | 144 m |
| Max. load torque | 8,690 tm |
| Lattice jib from | 12 m |
| Lattice jib up to | 96 m |
| Derrick boom from | 30 m |
| Derrick boom up to | 36 m |
| Central ballast | 65 t |
| Counterweight at superstructure | 190 t |
| Derrick ballast | 350 t |
| Engine power | 400 kW |
| Driving speed | 1.36 km/h |
| Total ballast | 565.00 t |
Downloads: