Mountain Crane was honored to be a part of a Guinness Book of World Records moment! When the Harlem Globe Trotters reached out to our team and asked if we could hoist a basketball hoop up 50 feet in the air to set a new world record we couldn't wait to be a part of it! "Thunder Law" of the Har- lem Globe Trotters wrote history when he made the highest upward shot right in the hoop attached to our man basket in front of the Utah State Capitol Building.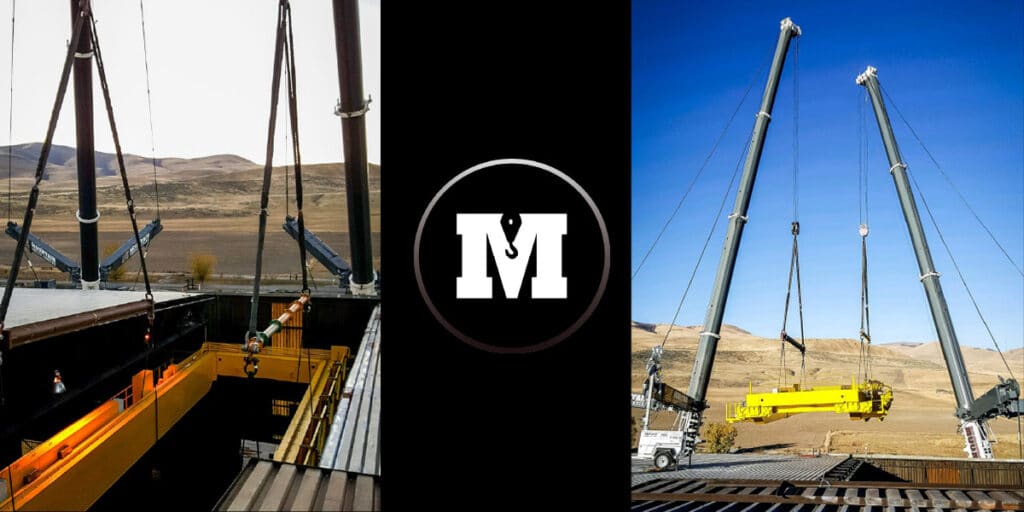 Working in Tandem
We recently had the opportunity to work with Nucor Steel and Titan Construction installing a new, long span, 35 ton over-head bridge crane. The new crane was installed using two of our 500-ton Liebherr hydraulic cranes. This 35 ton, long-span overhead crane was installed to replace a crane that has been working in the steel production at Nucor for over the last 40 years. The old over-head crane's service and long life assisted in loading and moving more tons of steel products than you can imagine.
It's life is not over however… We loaded it onto our 100 ton dollies and moved it to a new location on the plant.
It was installed in a different building so it could continue to service the steel industry in a less rigorous/demanding part of the facility. The job was extremely technical and time-consuming but thanks to an experienced crew and strong team, the job was executed safe and as planned. Thanks to everyone involved for assisting where needed and making this tandem lift a success.
Project Location
Mountain Crane Services
Mountain Crane Services provides a variety of crane services across the Intermountain West including plant shut- downs, steel erection, pre-cast panels, heating and cooling units, transformers, pools and hot tubs, demolition, wind turbines, and bridge girders. Mountain Crane Service has a team of expert operators trained to conduct tandem lifts.
Mountain Heavy Transport provides all heavy transport services, including heavy haul, jack-n-slide, and modular platform trailers (Goldhofer). Mountain Crane Service employees receive continual training through Operating Engineers Local 3 and have their CCO Certifcation.